NEW! Ultra Moisturizing Body Butter 300mg
Sale price
$39.99
Regular price
About this product.
Vigilant CBD presents Ultra Moisturizing Body Butter Sport Formula infused with Premium Hemp CBD isolate.  Rich and creamy, natural and never greasy, this pure and organic body lotion nourishes, moisturizes and protects your skin.  Ultra Moisturizing Body Butter easily absorbs into your skin and helps condition, softens and smooths dryness away.  It is made with the highest quality Hemp-derived CBD and premium ingredients to form a protective barrier and hold in moisture, while protecting your skin from dry air, heat and cold weather. 
How and when to use.
An ultra-rich moisturizer that does wonders for your skin and makes for an easy application.  Apply as often as needed.  
Things you should know. 
300mg of hemp-derived CBD
Nourishes and moisturizes skin
Leaves skin feeling soft and supple 
Relieves discomfort and combat irritated skin
Blended with the highest quality CBD and botanicals 
Improves skin, hair and nails
Forms a protective barrier to hold in moisture 
Protects skin from dry air, heat and cold weather
Container: 3.4 oz jar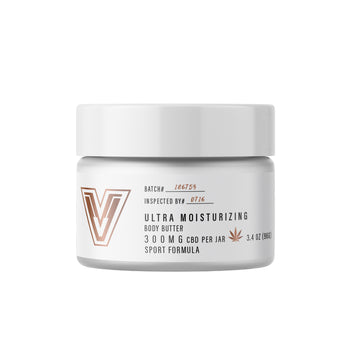 NEW! Ultra Moisturizing Body Butter 300mg
Sale price
$39.99
Regular price